Politics
Charlie Crist Supports Marriage Equality for Gay Couples
Charlie Crist Supports Marriage Equality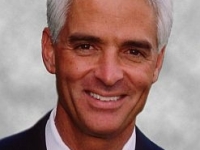 USPA NEWS - On May 8, 2013, former Florida Governor Charlie Crist posted on Facebook:

"Some great news: On Tuesday, Delaware became the 11th state to allow marriage equality. And just a few days ago, Rhode Island adopted a similar measure, which followed victories last fall in Maine, Maryland and Washington. I
This is a change from Crist's position in 2006 when as Governor he signed a petition to help place an anti-gay marriage amendment on the ballot. The measure passed with nearly 62% of the vote in 2008. Today, polls show a dramatic shift in public opinion with a clear majority favoring equal access to marriage for gay couples. "His position on this issue reflects the evolution of Florida voters," stated Nadine Smith, Executive Director of Equality Florida. "The clear majority now supports full legal recognition of marriage equality and that support is growing rapidly regardless of political party, age or religious identification." A poll released by the nonpartisan Public Religion Research Institute found that Florida outpaced all other Southern states with 54 percent of Floridians surveyed favor allowing gay and lesbian couples to marry legally. A March poll by the Democratic firm Public Policy Polling found 75 percent of Florida voters favor allowing gay couples to legally marry or be allowed to form civil unions that provide the same protections as marriage. Only 23 percent said there should be no legal recognition of a gay couple's relationship. Among Republicans just 25 percent opposed legal recognition of a gay relationship.
Keywords: Charlie Crist, Floria, Gay, Same Sex Marrige
Liability for this article lies with the author, who also holds the copyright. Editorial content from USPA may be quoted on other websites as long as the quote comprises no more than 5% of the entire text, is marked as such and the source is named (via hyperlink).
| | |
| --- | --- |
| | RAHMA-SOPHIA RACHDI |
| | Robbie Merritt |
| | Ruby BIRD |
| | Yasmina BEDDOU |
| | Daren Frankish |